Rasgulla one of the most popular Indian sweet has certainly been India's best culinary invention. This sweet is largely relished in eastern India. Rasgulla is derived from the roots Ras means "sweet juice" and 'gulla' comes from the word 'gola' which means "ball", in other words, ball of sweet juice. This dessert is made from ball-shaped dumplings of cottage cheese and semolina dough dipped in sugar syrup. There have been constant claims amongst people of Bengal and Orissa claiming to be the inventor of this delicacy. But in reality, this delicacy was originated as a means to appease angry wife.
This is a legend of the city of Puri, in Orissa where, resides Lord of the universe, Jagannath with his brother Baladeva and sister Subhadra. This is the only temple where he resides with his siblings and not consorts. During the month of June Lord Jagannath steps out of the temple and lot of Vedic rituals are carried out, before the lord are taken in a chariot to their aunt's home in Gundicha Mandir. This festival is recorded to have one of the largest gatherings of devotees who are there for a glimpse of their lord.
There are many stories that signify Ratha Yatra including the time when Krsna's uncle came to Vrindavan to take Krsna, Baladeva, and Subhadra to Mathura. As Krsna, Balaram and Subhadra were seated on the chariot the Gopi's pulled the chariot towards Vrindavan.  This is celebrated as rath yatra. Lord Jagannath, Baladeva, and Subhadra are staying in Puri and Goddess Lakshmi is present to serve them.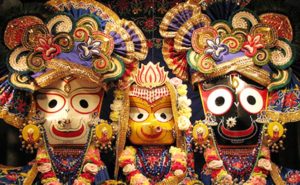 One day Lord Jagannath along with Baladeva and Subhadra went out of the main temple without informing goddess Lakshmi on their chariot. This trip of Jagannath is celebrated as Rath Yatra, where Jagannath along with Baladeva and sister Subhadra goes to Gudicha Mandir. And the main temple is locked for 9 days. This angered goddess Lakshmi who is present in the temple and serves Jagannath by cooking for him; temple kitchens are supervised by the Goddess Mahalakshmi, herself.
When Jagannath left the main temple goddess closed the doors of the main temple, preventing Jagannath to come back. To appease goddess Lakshmi Jaganath offered her Khira-Mohana, a popular dessert of Odissa that is made from chhenna and soaked in sugar syrup.
Khira-Mohana can be etymologically understood as Khira meaning pudding and Mohana to please, a pudding that can appease someone. Since this appeased goddess Lakshmi. Khira-Mohana is brownish in color. But this was later replaced by white colored Rasgulla 
This act is called Bachanika, where rasagulla's are offered to Jagannath and then to Mahalakshmi. This Khira-Mohana is said to be evolved to modern day Rasgulla in the 12th century and then it spread to Bengal in the 18th century, according to historians. The brown chhenna sweets became white Rasgulla when priests cuddled the milk. 
But this was a secret recipe, and according to the local folklore of Orissa there was a small village called Phala, in outskirts of Bhubaneswar. The village had a huge production of milk as compared to the consumers. They were used to throwing away the excess milk. Looking at the hefty wastage of the milk the priests of Jagannath temple were really saddened. The persists then decided to reveal the art of cuddling and making chhenna. This resulted in the making of many sweets and even led to the greatest invention of Rasgulla.