When we see leftover food, half-empty fridge, and terribly lazy to cook. You just want to dump everything on a pan and manage to cook whatever turns out. The dish turns out to be delicious and failure often. It's alright if you screw up the recipe, just embrace it and try again. Don't forget Some of the greatest discoveries are made by accident and it's no exception when it comes to food. To cook a great dish you need right recipes, right ingredient, right method but this is not as important as taste. Sometimes a little mistake, accident, a mishap can give amazing and lip-smacking results. As it is said, "best things happen unexpectedly".  Here are some chronological examples of the accidental discovery of some mouth-watering, delicious recipes, starting right from ancient to the modern age.
Aviyal- A Mix Vegetable of Mahabharata era.
A day to day south Indian preparation made with mix vegetables, curd, coconut, and spices. This dish is special for Onam, the festival of Kerala. This dish is special because of the way it was created. This dish has roots right in the Mahabharata as per Kerala narratives.
As per one of the popular narratives, Duryodhana once poisoned Bhīma and threw him into the river. When Bhīma didn't return for a long time everybody thought that Bhīma was dead. Shradha a mourning feast is organized on the 13th day as per customs, Pandavas also organized Shradha Feast for Bhīma. A lot of food was being prepared for the feast and Bhīma returned alive. Seeing Bhīma alive Pandavas canceled the mourning feast. seeing the food go waste Bhīma was unhappy. Bhīma then mixed all the vegetables and created Aviyal. Another narrative says that when Bhīma was a cook at King Virata's kingdom during their Agyaat-Vaas, One day when the king received unexpected guest sage Durvasa, who is known to give freely curse people due to his short temper. Bhīma was asked to prepare a feast for Sage Durvasa, But in the kitchen, the ingredients available were not enough for one single dish, so Bhīma mixed all the vegetables he had and made a curry, thus Avial was created which was well appreciated by Sage Durvasa.
Biryani- Meat and Rice Dish of Pre Mougal Era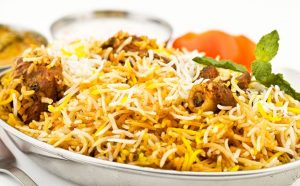 One of the most popular dishes of rice dish. This dish is eaten widely throughout the country and has its own variant every place it is cooked, this dish is made in many forms, Chicken Biryani, Mutton Biryani, Egg Biryani, seafood Biryani, Veg Biryani, and the list can go on. 
The origin of this dish can be traced to the pre mogul era, the era when Persian invaders were colonizing and invading other territories. The word Biryani originates from the Persian word 'birian' which means fried before cooking. The Persian invaders started with a small army and started to increases their strength by acquiring colonies. During the invasion voyages, it was very difficult to get a proper meal and give the army complete nourishment, In order to give proper protein and complete nourishment. The Persian army figured out a one-pot dish wherein meat, rice, spices were all cooked together as a solution to the quick, easy and nutritious dish. This resulted in the invention of Biryani. This innovation spread throughout the Persian colonies and became the dish it is today.
Sambar- A type of Dal (Lentil Soup) of Maratha Era
A name inseparable from South Indian food, you cannot imagine Idli, Dosa, Vada, Rice, etc without Sambar. a hot, tangy and spicy blend of lentils and mixed vegetables giving both appetizing aroma and taste. Sambar a synonym with Idli originated in much later, during the Maratha period. This dish was a last moment 'everything into pan' move in the 17th century. 
As per popular reads, this dish originated in the kitchen of Thanjavur Maratha Ruler Shahaji, he had a special liking for a dish called 'Amti'. One day great Maratha Ruler Shivaji Maharaj's son Sambhaji was visiting his cousin Shahaji. Shahaji wanted to serve Amti to his cousin, however, key ingredient 'kokum' ran out of supply, Shahuji himself experimented the dish with Toor dal, vegetables, spices, and the tamarind pulp and served his cousin, Sambhaji. The other narrative says that once Sambhaji himself cooked dal with Tamarind Pulp and whatever he had found in the kitchen when his chef was away. Sambhaji loved this dal so much that he gave his name to this dish, and this dal became sambar.
Pav Bhaji:- A Mumbai's Delicacy of British Era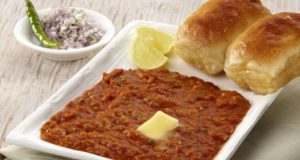 Pav Bhaji a lip-smacking, hot spicy, buttery tomato and mashed vegetable preparation that is eaten with Pav on the streets and beaches of Mumbai. Although this dish is made differently in states across the country, The roots still remain in Mumbai. As per popular reads, there are two causes for the origination of this dish.
During the late British colonial era in Mumbai, When the mill industry was functional emerged this dish from leftovers. The mill workers undergoing a tremendous amount of physical labor received a very short Lunch break, which was not enough for a complete meal. Also during those times, the cotton market was in great demand. Traders would receive the cotton price through a telegram in the night. The traders needed to be awake till late nights and finding food in nights remained a challenge. Looking at these two challenges one local vendor selling regular lunch, experimented with leftover ingredients of other dishes available on with him, He mixed potatoes, onion, tomatoes, vegetables, spices, and curries on a Tawa to create 'Bhaji' what we see today, As his Rotis and rice would be over after his daily sales he started to serve this 'Bhaji' with Pav.  This tasty, flavorful dish became an instant hit. Pav Bhaji became a midnight dish and a dish of mill workers and gained the popularity that we can see till date.