Imagine you are running a restaurant full of hungry guests, and you run out of supply what would you do? This can be a panic situation. For a Chef, guests are really important; no guests should go hungry or dissatisfied. A Chef never backs out in feeding people instead a chef would do anything when it comes to a culinary challenge. During training, a chef is taught two golden rules -'Never Say No' and 'Always Suggest or find Alternatives' says my friend Chef Nitin Kanse. He says that he has faced many situations when they ran out of supplies and there would be guests waiting, they would use whatever ingredients available, they believed that service must not stop at any cost. Situations only trigger ideas and innovations, just as some great foods have originated while handling hungry customers without a backup or supply. It is only the determination of the Chefs and the teaching to 'Never Say No' contributed towards great innovations.
Here's a list of innovations that happened because the chefs never backed down.
Chocolate chip cookie – A Crunchy American Biscuit with chunks of chocolates, is all you need to make your day. A true classic that is loved by people of all ages. In the year 1938, an American chef Ruth Graves Wakefield ran a restaurant named Toll House Inn, where she cooked and served food for her guests. Out of many cookies, Ruth baked butterscotch nut cookie with ice cream which was people's favorite, until one day. Once, Ruth had guests waiting for her to bake some cookies, suddenly Ruth ran out of baker's chocolate for the cookie she was to bake. She then saw a semi-sweet chocolate bar she decided to substitute this with baker's chocolate. She hurriedly made pieces of the chocolate bar and dropped it in the dough, then baked it. However, unlike the baker's chocolate, this chopped up chocolate bar did not melt and mix into the batter like the way Ruth thought. This baked cookie had chunks of chocolate in them. When Ruth served to guests they loved it and Ruth named it Toll House cookie. The rest is History.
Nachos– A crunchy Mexican snack consisting of tortilla chips covered with cheese, sliced jalapenos, olives, cheese-based sauce, and salsa.
This dish originated in the year 1943 in the Northern Mexican city of Piedras Negras, Coahuila, Chef Ignacio Anaya, also known as "Nacho" was running a restaurant. One day some wives of U.S Army soldiers stationed at Fort Duncan in nearby Eagle Pass were in Piedras Negras on a shopping trip. While they were shopping they spotted this restaurant but Anaya had closed it for the day.  The time when army wives entered Anaya had nothing to serve. A chef can never back out serving food to guests, so Anaya cut leftover tortillas into triangles, fried them and topped with a lot of grated cheddar cheese, slices of pickled jalapeno peppers and served to the Army Wives. The Army wives loved it and when asked what the dish was Anaya just said 'Nacho's Especiales' Nacho's special. The popularity of the dish swiftly spread throughout Texas, Southwest and gradually throughout the world.
Potato chips
– Thin Slices of deep fried or baked
potato, a widely eaten snack around the world. These chips nowadays come in various flavors.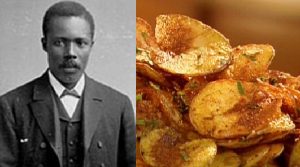 Being a Chef you meet all sorts of customers visiting your restaurant. Some are exceptionally nice and some are cranky. Handling cranky customers is the challenging task of being a chef. Chef "George Crum" an Afro-American origin chef working at the Moon Lake Lodge resort in Saratoga Springs, New York, USA faced one such cranky customer. French Fries were very popular and highly in demand in those times. On one evening of 24 August 1853 Crum was serving customers and he encountered one Customer 'Cornelius Vanderbilt' a huge American business magnate. He ordered some French Fries, and when Chef Crum sent out his order, he complained that they were too thick, soggy, and not well salted. Crum made a fresh batch and sent out again but this time also his fries were rejected, stating similar reasons. This kept happening a few times, every time Chef Crum would send out the batch the Customer would remain unsatisfied. This annoyed Chef Crum a lot, in order to deal with this customer Chef Crum cut the potatoes ultra-thin, making it impossible to be eaten with a fork, fried them, added extra salt and sent out the order hoping to annoy the cranky customer. Surprisingly the Customer loved this lot. Thus potato chips were invented. Another story says that Crum's sister Katie, who also worked in the kitchen with him. one day a slice of potato fell in the fryer, when Crum tasted this he loved it, and he discovered the chips.  The Chips were originally called "Saratoga Chips" and they are today largest consumed snack in the world.
Slurpee– A frozen carbonated drink with a sweet icy sip.
T
his Slurpee was invented in the late 1950s by a soda seller named Omar Knedlik in Kansas City USA. Omar owned an old Dairy Queen Soda machine that would often break down. He would make extra soda and keep handy. One day when he had customers and as usual his soda machine broke down, Omar put some of his soda in the freezer for a while and started serving the soda right from the freezer. People loved this little slushy frozen carbonated beverage and this became very popular. Realizing this Omar made himself a Slurpee machine using a car's Air Conditioning Unit.
Caesar Salad
–
A Salad that is table tossed in front of guests makes this salad unique. This salad is made with romaine lettuce, croutons, cheese, lemon juice, olives, eggs, salt and 
pepper, and many more ingredients. This salad today is made with many variations. Although this salad is called Caesar salad, it has nothing to do with Julius Caesar but the story of this salad's creation is pretty interesting. 
It was an evening of 4th July 1942, in an Italian origin Chef 'Caesar Cardini's Restaurant in
Tijuana, Mexico
. As it was the holidays there were many guests in his restaurant. The restaurant was so crowded that Cardini was running short on supplies. Chef Cardini then threw together a bunch of ingredients he had and started table tossing in front of the guests, this innovative technique and taste of this salad caught on and there you go.